Counting Web Words in Microsoft Word

Microsoft Word's Word Count facility gives a reasonably accurate count of the number of words in documents, or sections of documents.
For Web content from Word, first make sure footnotes and endnotes are included in the count:
Go to the Tools menu and select Word Count.

Tick the Include footnotes and endnotes checkbox.

Click Close.
Now you can get a word count in a number of ways:
Go to the Tools menu and select Word Count to display the Word Count dialog.
Go to the File menu and select Properties. A word count is provided in the Statistics tab.
Count the words in a specific section of the document by highlighting the section, moving to the Tools menu, then selecting Word Count.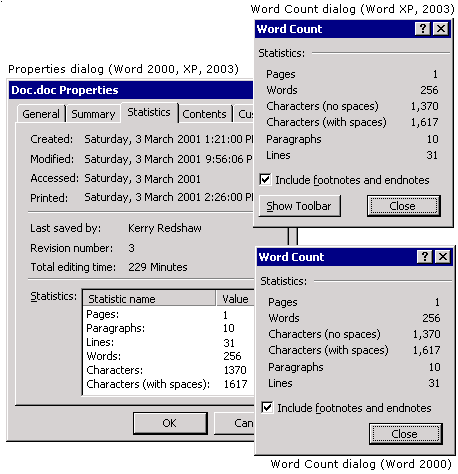 Note: There a couple of gotchas in the word count facility that you'll need to keep in mind:
Words in text boxes and autoshapes are not counted.
Words in cover pages etc. are counted.
Shauna Kelly has a free Word Count add-in available for download that will count text in autoshapes and text boxes, and will also allow you to remove words in cover and end pages from the count.



Using Web and Internet Words


MS Word Readability Statistics for Web Writing
Related:
Counting Words for Web Writing